Baptist Ambulance begins providing 911 ambulance response to Tipton County, Tennessee on July 1
July 2, 2020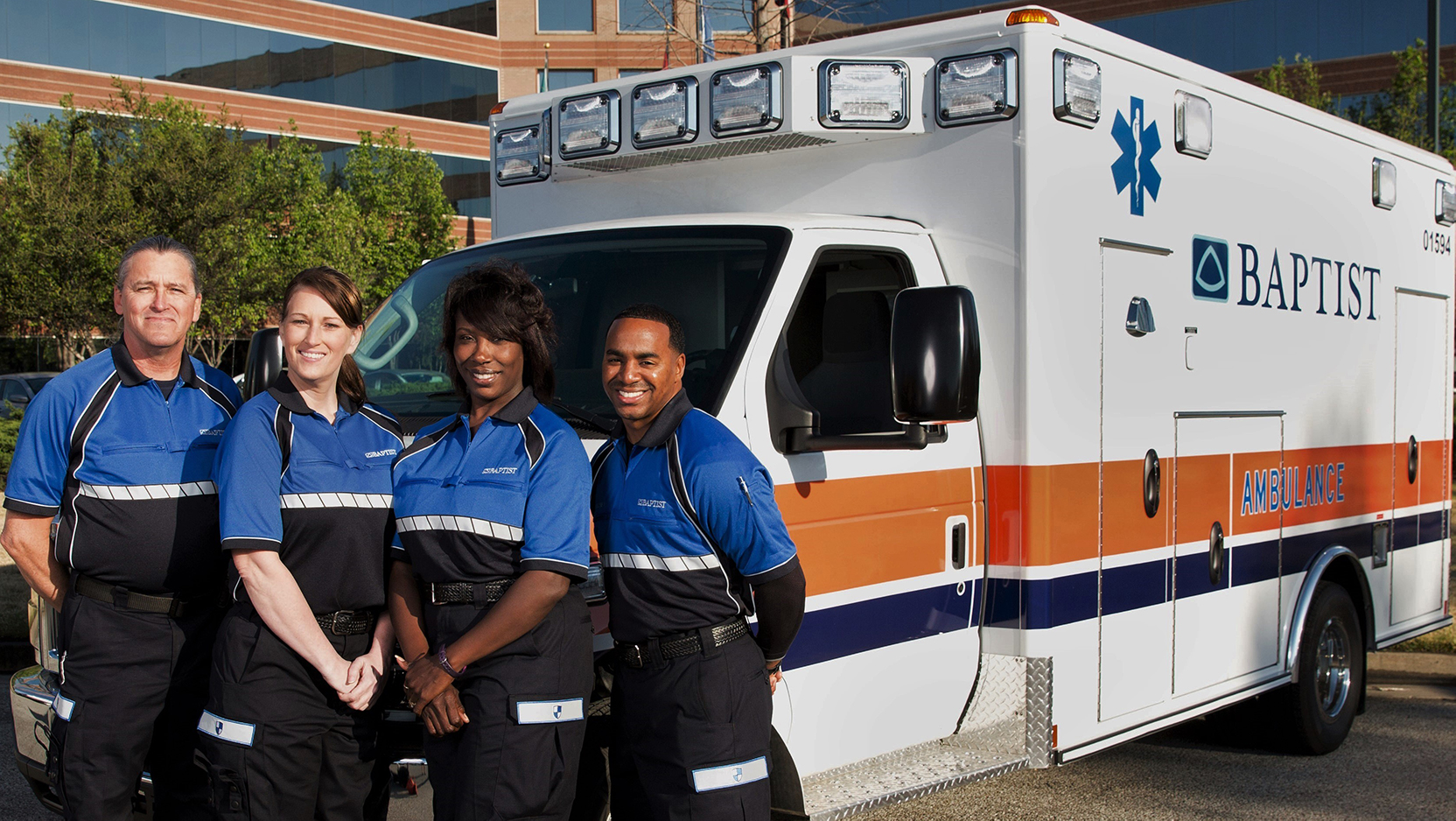 Baptist Ambulance began responding to all 9-1-1 calls within Tipton County, Tennessee, on Wednesday, July 1. The Tipton County Commission selected Baptist Ambulance to provide exclusive 911 emergency ambulance service to the county through a competitive request for proposal process earlier this year.
"Emergency ambulatory transport is an essential and vital service that is critical to the well-being of all Tipton Countians," said Tipton County Mayor Jeff Huffman. "Having a professional, community-based ambulance provider can mean the difference between life and death for some citizens."
"Our partnership with Baptist Ambulance has started off well as they worked quickly to bring in vehicles, equipment and EMS staff to serve Tipton County. Baptist Ambulance will increase the resources that have previously been available in our community while also allowing us to maintain budgetary control with no increase in the county's current investment in emergency medical services. We believe this will help make our community an even safer place to live."
Tipton County is located on the Mississippi River north of Memphis and is one of the fastest growing counties in the state with approximately 61,000 in population. Baptist Ambulance will staff five ambulances 24 hours a day, seven days a week with an additional ambulance available to be staffed by a supervisor during times of high call volume. Baptist Ambulance's vehicles will be furnished with new, advanced medical equipment, such as the latest model cardiac monitors and power stretchers.
"We are excited to extend our prompt, excellent emergency medical services to the people of Tipton County," said Baptist Ambulance Vice President of Operations Eric Messer. "At Baptist Ambulance, we strive to become a true part of the communities that we serve through public health outreach programs like CPR classes, AED training and provide standby ambulance for community events, festivals and more. We look forward to serving our new neighbors."
Baptist Ambulance extended offers of employment to all qualified EMTs and paramedics currently working in the county to preserve local experience and knowledge in the workforce.
Baptist Ambulance is the preferred ambulance service provider for Baptist Memorial Health Care, which includes Baptist Memorial Hospital-Tipton located in the county. With the addition of Tipton County, Baptist Ambulance serves more than 43,000 patient each year in West Tennessee and Mississippi with 56 ambulances and more than 375 employees. Baptist Ambulance provides 911 response in eight communities, including Calhoun, Lafayette, Union, Prentiss and Attala counties in Mississippi and Obion, Carroll and Tipton counties in Tennessee.
Baptist Ambulance is a subsidiary of Priority Ambulance, one of the nation's fastest-growing ambulance companies in the nation with a large concentration in the Southeast.
About Priority Ambulance:
Priority Ambulance serves more than 400,000 patients annually with approximately 3,000 highly trained paramedics and EMTs staffing a fleet of approximately 500 state-of-the-art vehicles with the latest medical equipment and technology. Priority Ambulance operates in 10 states under trusted local brands that provide emergency and non-emergency medical transport services.
The Priority Ambulance family of companies includes Shoals Ambulance in Alabama; Maricopa Ambulance in Arizona; Puckett EMS in Georgia and Southeast Tennessee; Central EMS in Georgia; National EMS in Georgia; Seals Ambulance in Indiana; Kunkel Ambulance in upstate New York; Trans Am Ambulance in western New York and northwestern Pennsylvania; Medshore Ambulance in South Carolina; Priority Ambulance in East Tennessee; A&E EMS in Tennessee and Baptist Ambulance in West Tennessee, Mississippi and Arkansas. For more information, visit www.priorityambulance.com.